An unbeatable pick for fall foliage, the rustic hill town of Kent, Connecticut, pulses with culture, history, and a timeless community spirit.
In the eight years since Yankee named Kent—this iron-rich town that once cradled America's mining industry—New England's best for fall foliage, something approaching the miraculous has occurred. Even as shops and restaurants clustered around a lone traffic light have stepped up in sophistication, the landscape has hopscotched back toward 1781, when George Washington's horse tumbled off Bull's Bridge.
Kent's location—80 miles from New York City—creates just the right conditions for a distinctive way of life to thrive, for a back-in-time aura to permeate Connecticut's first small town to launch its own app. Almost everyone here seems to be from somewhere else. They crave a quiet country life but can't quite sever the urban umbilical cord. They want their legacies written in lands forever preserved and antique homes restored, not in the tabloids. There are no barriers to being yourself in Kent, where people are known for their talents.
—Excerpted from Yankee Magazine. Written by Kim Knox Beckius • August 8, 2018
---
Kent is also an arts destination with numerous galleries and outdoor sculpture exhibitions. Scroll below for list of galleries.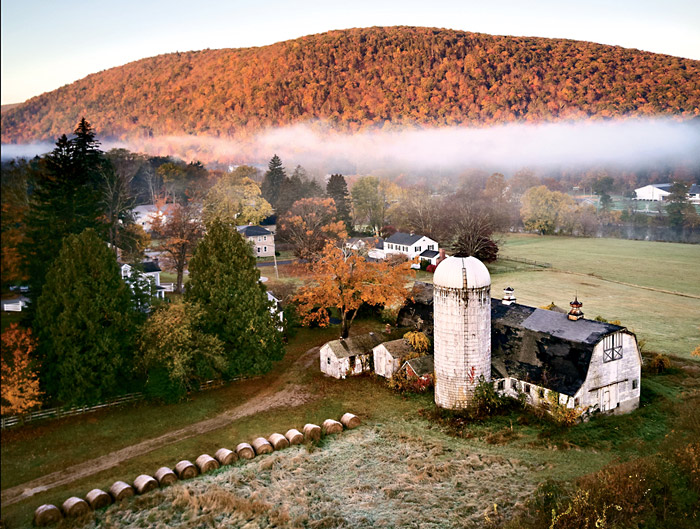 Kent is home to three highly regarded New England Preparatory boarding schools; The Kent School (Actor Ted Danson is a graduate of The Kent School), The South Kent School, and The Marvelwood School.
FINE ART GALLERIES
Morrison Gallery
The Morrison Gallery represents several important Artists Estates, Secondary Market pieces, and over 51 well-known and emerging sculptors and painters both regional and international. Salvador Dali, David Armstrong, Cleve Gray, Eric Sloane, Alexander Lieberman, Paul Suttman, Joy Brown, Jonathan Prince, Sandra Filippucci, Raphaëlle Goethals, Lydia Musco and others.
MORRISON GALLERY
25 North Main Street
Kent, Connecticut 06757
860.927.4501
HOURS: Thurs – Sat 11 AM – 5 PM
Sunday 1 PM – 4 PM
gallery@morrisongallery.com
www.themorrisongallery.com
Ober Gallery
specializes in Contemporary, Russian Non-Conformist, German Neo-Realist, and Reductive Art.
6 N Main St, Kent 860.927.5030
obergallery.com
Gallery At Kent Art Association
This 83 yr. old Association hosts representational paintings and sculptures by prominent Northeast artists
21 S. Main St. Rte. 7 860.927-3989.
kentart.org
CRAFT GALLERIES
Heron American Craft
We represent over 100 American craftsmen in wide range of work from ceramics and blown glass, to jewelers and fiber artists. 
860.927.4804
heroncraftgallery.com
Foreign Cargo Gallery
Upstairs features authentic and museum quality artifacts, antiques, and furniture. Unique Handicrafts, Antiques, African, Asian and Pacific Island Art or Wearable Art and Jewelry
860.927.3900
foreigncargogallery.com
FACTS
Year Town Incorporated: 1739
Form of Government: Board of Selectmen
Geographic Location: NW Tip of Region
Geographic Area: 49.6 Sq. Miles Current
Current Population: Est. 3,000
Median Household Income: $66,000
Nearest city with pop. 50,000+: Danbury, CT (22.2 miles , pop. 74,848).
Nearest city with pop. 200,000+: Oyster Bay, NY (59.4 miles , pop. 293,925).
Nearest city with pop. 1,000,000+: New York, NY (76.8 miles , pop. 8,008,278).
Nearest cities: Dover Plains, NY (7.2 miles), Warren, CT (8.9 miles), New Preston, CT (9.0 miles), Amenia, NY (10.0 miles), Sherman, CT (10.1miles), Sharon, CT (10.7 miles), New Milford, CT (10.9 miles).
State Lands: Kent Falls State Park; Lake Waramaug State Park; Macedonia Brook State Park; Wyantenock State Forest
Federal Lands: Appalachian Trail; St. John's Ledges
Recreation: Emery Park, Route 341E (Segar Mountain Road) is open daily from 11 am. to 7 pm. The park features swimming, picnic and playground area. A park pass is required at a cost of $30 for residents; $60 for non residents; free for residents over age 65. The Park pass also entitles holders to use the tennis courts at Kent Common Playground at Swift Lane and winter ice skating at local rinks. Passes are on sale at the Park and Recreation office and at Emery Park. For more information call 860 927-1003.
KENT TOWN HALL
Assessor's Office
860.927.3160
Kent Center School
860.927.3537
First Selectman
860.927.4627
Tax Collector
860.927.3269
Town Clerk
860.927.3433
Zoning Land Use
860.927.4625
Fife n Drum Restaurant, Inn & Gift Shop
Live Music. Fine Dining. Catering. Weddings. Receptions. Great ambience & fireplaces. Caesar Salads, Filet Mignon, and Duck Flambe prepared tableside. Legendary establishment for over 45 years. Wine Spectator "Best of Award of Excellence" 1992 – 2018.
fifendrum.com
The Villager
Offers traditional breakfast items, Mexican delicacies, American cuisine
and an extensive lunch menu.
Tuesdays are Mexican Night
5 PM to 9 PM April – November.
28 North Main Street
860.927.1555
villagerkent.com
Kingsley Tavern
Comfy hangout offering elevated pub grub such as mussels & veggie risotto, with a bar & porch seats.
14 North Street Main Street 860.592.0261
kingsleytavern.com
J.P. Gifford Market
Unique grocery store/deli. Produce, meats and poultry are delivered daily. Deserts, muffins and breads baked on premises.
12 North Main Street 860.592.0200
jpgifford.com
Shanghai Chinese Restaurant
Take out or dine in. Menu online.
8 Landmark Lane
860.927.4809
Shanghaichineserestaurant
Wasabi Japanese Cusine
24 South Main
860.927.0048
wasabijapanesecuisine.com
Bulls Bridge Inn
Dine on great steaks, fresh seafood or enjoy the salad bar. Maybe just a cocktail at the copper top bar.
333 Kent Road Kent 860.927.1000
www.bullsbridge.com
Kent Coffee and Chocolate Company
Over 100 varieties of coffees and teas. Cappuccino, espresso, coffee, chai, hot chocolate and teas. Fresh-baked muffins, cookies and biscotti. Hand-dipped truffles, fudges and assorted chocolates, sugar-free and exotic tea chocolates made on premises.
Open daily 7-5
45 N Main St
860.927.1445
kentcoffee.com
Appalachian Trail
"Schaghticoke" (ska-ti-coke) means " the place where the river divides" in Mohegan, a Native American language. You are climbing Schaghticoke Mountain and soon will pass through a reservation by the same name. The trail follows numerous switchbacks over the next 2.8 mi. to the top of the mountain at 1300 ft. Although this is a Connecticut hike, the trail crosses the New York State border two times on the way up and on the way down, all on Schaghticoke Mountain.
appalachiantrail.org

Bulls Bridge Golf Course
Bulls Bridge Golf Club is a unique golf adventure, set in beautiful New England. The private Tom Fazio designed course is one of the top golf courses in the state of Connecticut.
(860) 927-7135
bullsbridgegolfclub.com
Bicycle Tour Group
Getaway adventures designed and guided by cycling professionals.
1-888-711-KENT
bicycletours.com
Macedonia Brook State Park
300-acre park. The Blue Trail crosses Cobble Mountain and several other peaks, offering outstanding views of the Catskills and Taconics.
59 Macedonia Brook Road
860.927.3238
www.ct.gov
Kent Falls State Park
Home to Connecticut's highest waterfalls. A staired path leads to the summit of the 200-ft. cascading falls, and a pleasant picnic area on Route 7 North of town.
ct.gov
Sloane-Stanley Museum
A re-creation of Eric Sloane's art studio and a display of 18th-century tools. A meeting place for those wishing to discover and share in the rich contributions of this great champion of early American life and values, celebrating the life and work of the most preeminent and prolific Americana philosopher, artist and early environmentalist, Eric Sloane.
860.927.3849
ericsloane.com
Conn. Antique Machinery Association Museum
Will appeal to the gearhead in anyone.
31 Kent Cornwall Rd
860.927.0050
ctamachinery.com