Known as "Home of the Covered Bridge," this quiet town in northwest Connecticut, offers a ski mountain, a state forest, and the West Cornwall Covered Bridge, still in service today. Mohawk Mountain Ski Area is the largest in Connecticut with 25 trails and 7 lifts on 330 acres of land.
Located along the Housatonic River, it offers recreational activities such as river rafting, canoeing and fly fishing. Enjoy Mohawk State Forest and hike through the rugged hills of this wildlife sanctuary.
Cornwall is in fact, 3 towns. Cornwall Village is purely residential aside from two churches, the town hall, a library, and a post office. West Cornwall is the most commercial of the three and contains nearly all eating and shopping establishments. West Cornwall contains the famed West Cornwall Covered Bridge. This is one of the most quaint and well known of Connecticut's covered bridges. It is barn red and crosses the Housatonic River. Cornwall Bridge is home to the only beds in town, a single restaurant, a general store, and a few other shops.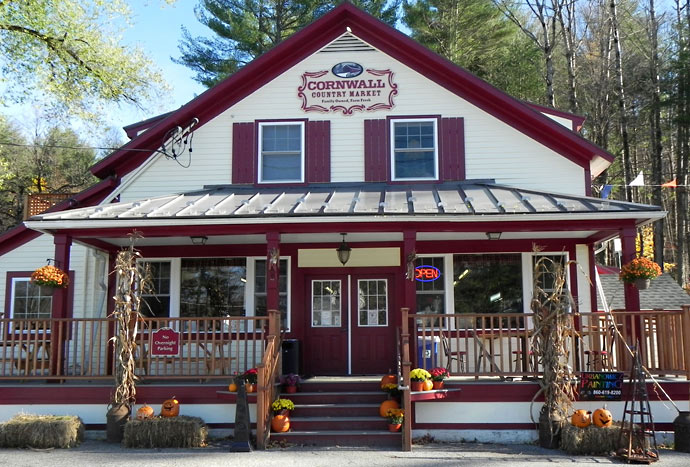 FACTS
Year Town Incorporated: 1740
Form of Government: Board of Selectmen
Geographic Location: NW Tip of Region
Geographic Area: 64 miles east of Housatonic River
Current Population: Est.1,489
Median Household Income: $ 64,750
Nearest city with pop. 50,000+: Danbury, CT (22.2 miles, pop. 74,848).
State Lands: Kent Falls State Park; Lake Waramaug State Park; Macedonia Brook State Park; Wyantenock State Forest
Federal Lands: Appalachian Trail; St. John's Ledges
Recreation: Hiking , Biking, Fishing, Rafting, Skiing
CORNWALL TOWN HALL 
Assessor's Office
(860) 672.2703
Building Inspector
(860) 672.0711
First Selectman
(860) 672.4959
Tax Collector
(860) 672.2705
Town Clerk
(860) 672.2709
Zoning
(860) 672.4957
Cornwall Inn & Lodge
Stacey Marcin & Mark Hampson, Innkeepers 270 Kent Road
Scenic Rte 7 Cornwall Bridge, CT 06754
1.800.786.6884 or 860.672.6884
cornwallinn.com
---
Traditional American fare served in a New England country inn. Selections range from a 10-ounce hamburger to fresh seafood and outstanding meats. This casual country dining restaurant and tavern is "where the locals dine."
Matthews 1812 House, Inc.
250 Kent Rd., US Rte. 7, Cornwall Bridge, CT 06754 (860) 672-0149 or 1-800-662-1812
---
Specializing in Cakes, Tortes, and Brownies, which we bake in small batches, using only the finest ingredients, without preservatives. Pick up or send for our 40 page catalog of cakes, tortes, candies, cookies and nuts. Open Mon-Fri 9-5
RSVP
7 Railroad St Cornwall
(860) 672-7787
Interested parties definitely must RSVP to this tiny, chef co-owned West Cornwall BYO classic French restaurant because it only seats 25. Locally sourced foods.
Wandering Moose Cafe
421 Sharon Goshen Turnpike, Cornwall
(860) 672-0178
SERVICES
Cornwall Bridge Citgo (860) 672.6782
Cornwall Inn (860) 672.6884
Hilltop Haven Bed and Breakfast
(860) 672.6872
Housatonic Meadows Lodge and Fly Shop (860) 672.6893
New England Wine Cellars
(860) 672.9463
Berkshire Country Store
(860) 672.3663
Mohawk Ski Area
Mohawk features 24 trails for skiing and snowboarding, using state of the art snowmaking equipment, five chairlifts, a "wonder carpet" for beginners and amenities for all snow sport enthusiasts 860.672.6100
Barbara Farnsworth, Bookseller
40,000 used, out-of-print and rare books in all fields, particularly horticulture and decorative trade bindings. The New York Times calls the bookstore "… a vast cozy place bulging with thousands of volumes." Catalogs issued, fine books bought.
Open Sat. 9-4, in season, and by appt.
407 Rte. 128, West Cornwall, CT 06796. (860) 672-6571
Clarke Outdoors
Canoe, kayak and raft on the beautiful Housatonic River. Rentals, guide service and instruction available. Whitewater rafting at Bulls Bridge Gorge in the Spring. Kayak instruction available by ACA Certified Instructors. Large retail store March 15-Dec 163 Rte. 7, West Cornwall, CT 06796. (860) 672-6365
Cornwall Bridge Pottery Store
This is the Direct Outlet for pots, lamps and tiles made at the Cornwall Bridge Pottery. Two floors of clay, wood, glass, cotton, sterling silver, amber … and many other crafts from around the world.
Rte. 128, (near the covered bridge), West Cornwall, CT 06796. (860) 672-6545
Dog Show
Three-story barn filled with art, crafts, and collectibles depicting dogs of all breeds. Including jewelry, quilts, prints, sculpture, cards, vests, totes, pillows, and much more. Dogs are welcome!
Open Fri.-Sun. 11-5.Rte. 7, Carter Rd., (4 mi. N. of Kent Center, next to Kent Falls, Cornwall Bridge,CT 06754 (860) 927-4599 http://www.DenisCurtissSculptor.com
Housatonic Meadows
Located on the Housatonic River. Park is known for its 2-mi. stretch of water limited to fly-fishing. 95 campsites in rustic setting, bathrooms, showers, picnicking, fly fishing, hiking, canoeing, x-country skiing.
Charge: Camping only
1 mile north of Cornwall Bridge on Rte. 7, Cornwall Bridge, CT 06754. Campground (860) 672-6772 (mid-Apr.-Columbus Day). Park Office: (860) 927-3238.
Housatonic Meadows Fly Shop & Lodge
Full Line Orvis Dealer, Orvis Endorsed Guide Service, Instruction & Lodging. Classic New England trout fishing, with our Orvis Endorsed guides, with over twenty years experience on the Housatonic River. 
13 Rte. 7, Cornwall Bridge, CT 06754. Phone: (860) 672-6064.
Housatonic River Outfitters, Inc.
Full Service Flyshop, Lodging, Guide Service, Outfitters & Fly-Fishing Schools. Highest Quality fly-fishing equipment, tying materials, furnishings, outerwear, books, camping supplies, antiques, trips & 50,000 plus flies. Classes in fly-fishing, fly-tying and casting.
intersection of Rte. 4 & Rte. 7, 24 Kent Rd., Cornwall Bridge, CT 06754. Phone: (860) 672-1010.