Hartford is the capital of Connecticut. It's located in Hartford County, situated on the west bank of the Connecticut River in the north central part of the state. Hartford is a financial, commercial, and service-oriented city, noted since the 1790s as one of the chief centers of the insurance business in the United States. Air transportation is through Bradley International Airport.
Hartford is home to the Mark Twain House & Museum. The 1874 mansion contains thousands of artifacts, including the desk at which Twain wrote his best-known works. The Harriet Beecher Stowe Center includes the author's Victorian house and many period furnishings, plus a garden. The broad collection of the Wadsworth Atheneum Museum of Art includes Renaissance and impressionist works.
Hartford is home to a symphony orchestra, ballet company, opera, and theater. The city is the seat of Trinity College (1823), Hartford College for Women (1939), Hartford Graduate Center (1955), and Hartford Seminary (1834); the University of Hartford (1877) is in nearby West Hartford. The Hartford Courant, established in 1764, is one of the country's oldest newspapers.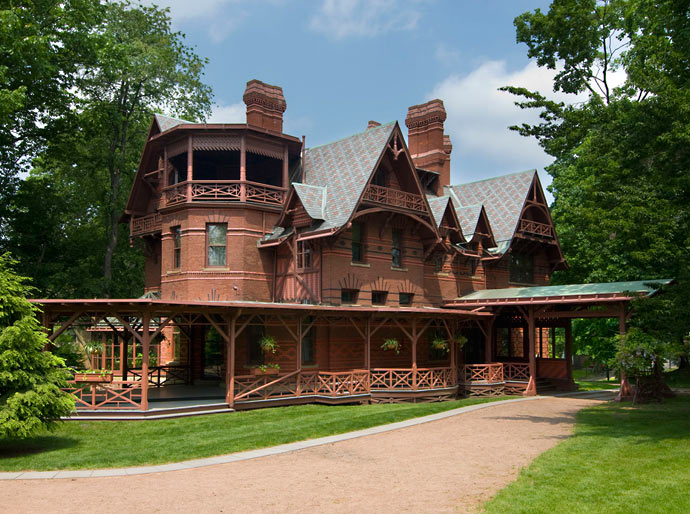 FACTS
Year Town Incorporated: 1636
Form of Government: Mayor Eddie A. Perez (860) 543-8500
Geographic Location:
Geographic Area: 45 sq km (17 sq mi)
Current Population: Est. 1,189,113 (2007)
Median Household Income: $22,140 (1990)
Recreation: Bushnell Park, Elizabeth Park,
HARTFORD TOWN HALL
(Windsor Town Hall)
330 Windsor St
Hartford, CT 06120
(860) 547-0251
Bricco
78 LaSalle Rd West Hartford Ct 06107
(860) 233-0220
The menu features everything from seafood, hand-made pizzas, braised veal Osso Buco, gnocchi, pasta to innovative salad choices, grape bread and great tasting meat entrees.
City Steam
942 Main Street Hartford, CT 06103
(860) 525-1600
Brew pub housed in 1877 building offers its own beers & pub grub, plus comedy shows in adjacent club. The award winning Brew Ha Ha Comedy Club Thursday at 8, Friday and Saturday at 7 and 10 p.m. Live entertainment or DJ most evenings – no cover!
Black Eyed Sallys
350 Asylum Street Hartford CT 06103
(860) 278-7427
Has built a national reputation for bringing in some of the best recording artists on the blues circuit today. Live entertainment Wednesday thru Saturday nights. Black Eyed Sallys serves unique favorites like Louisiana Gumbo (Chicken, crawfish, and andouille sausage in a spicy stew), Cherry Bomb or BBQ Wings, Deep Fried Catfish Fingers, Sweet Corn & Chicken Chowder, Memphis Style Pork Rib Platter and many other southern favorites.
blackeyedsallys.com
Bushnell Park
99 Trinity St Hartford CT
Oldest publicly funded park in the United States. It was conceived by the Reverend Horace Bushnell in the mid-1850s at a time when the need for open public spaces was just starting to be recognized.
bushnellpark.org