The borough of Bantam has long been viewed as a traditionally blue-collar area among the rolling hills of picturesque Litchfield County in northwest Connecticut. Lately, though, Bantam has evolved into a compelling destination of its own; a place that offers everything any true gourmand needs, from artisanal yogurt and tasty bread to handcrafted charcuterie.
Recently, its foodie stature has grown with the popularity of A Mano, an always-packed coffee shop that is the latest venture from two Manolo Blahnik executives who, in the mid-90s, revived an old dairy farm in Litchfield, then began turning industrial buildings in Bantam into ambitious food spots. The joke now is that Bantam is such a lively culinary destination that some longtime residents refer to the classy town of Litchfield as "East Bantam." — NY Times, June 2018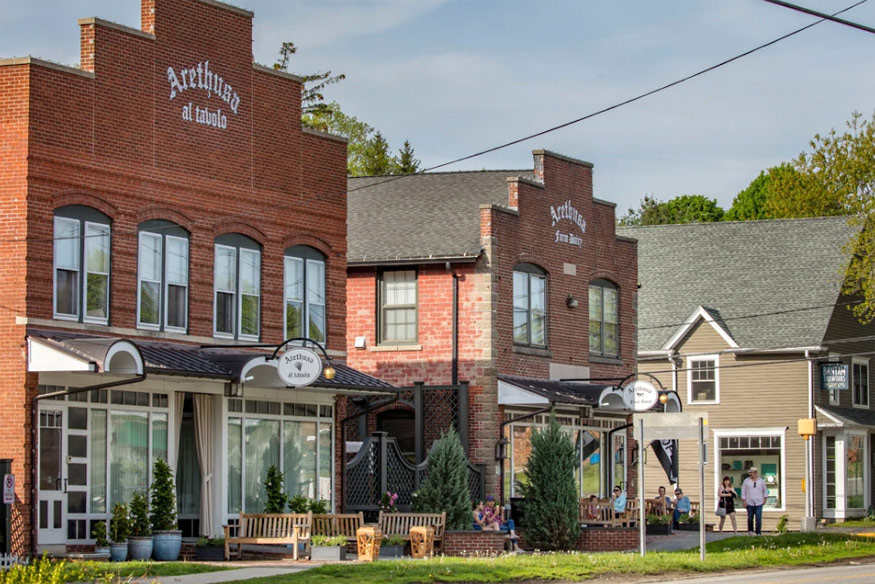 FACTS
Form of Government: Board of Selectmen
Geographic Location; NW Tip of Region
Geographic Area; 17.3 mi²
Current Population: Est. 808 (2005 Census)
Median Household Income: $80,420
Nearest city with pop. 50,000+: Danbury, CT (22.2 miles , pop. 74,848)
State Lands: Kent Falls State Park; Lake Waramaug State Park; Macedonia Brook State Park; Wyantenock State Forest
Recreation: Bantam Lake, Mount Tom State Park
BANTAM TOWN HALL

Bantam Borough Hall 860.567.5681
Tax Collector 860.567.3240
Warden 860.567.5681
Bantam Lake Control 860.567.5786
Discover the less-traveled antique district in Bantam, along Rte. 202. There you will find collections including furniture, silver, paintings jewelry, pottery, clothing and much much more.
Bantam Cinema
Shows foreign, independent and classic films.
115 Bantam Lake Road/RT 209
860.567.1916 Box Office
860.567.0006 Show Times
bantamcinema.com
Bantam Lake Ski Club 
860.567.3490
Of Litchfield and Morris, Connecticut was established in 1958 by a group of local water ski enthusiasts. It is the oldest, continuously operating water ski club in the United States.
bantamlakeskiclub.com
Bantam Lake
Public Beaches & Boat Launch
Ski Boat Shows, Fishing, Ice Skating
bantamlakect.com
White Memorial Family Campground
80 Whitehall Road Litchfield 860.567.0857
The outdoor arena includes the wildlife sanctuary maintained by the White Memorial Foundation. The Foundation today comprises 4000 acres of fields, water, and woodlands, trails, campgrounds, boating facilities, and special areas for large outdoor educational and recreational gatherings.
whitememorialcc.org
Bantam Pizza & Restaurant
768 Bantam Road, Bantam, CT 06750
860.567.3357
Hold the Pickle 
722 Bantam Road, Bantam, CT 06750
860.567.0084
Jackie's Restaurant
920 Bantam Road, Bantam, CT 06750 
860.567.0770
LA Cupola Ristorante
Relaxed eatery in an 1849 home serving traditional Italian fare, wine & more in a minimalist space.
637 Bantam Road, Bantam, CT 06750
860. 567.3326
Popey's Ice Cream
109 Lakeside Rd, Morris, CT 06763
860.567.0504
This little ice cream shop and snack bar has been around for over 25 years. It is a wonderful stop from early spring till late fall. They have the best burgers, fries and ice cream treats. It's one of the few nice snack bars on the back roads of western Connecticut.
Wood's Pit BBQ & Mexican
123 Bantam Lake Road, Litchfield, CT 06759 860.567.9869
If it's ribs you're after, your chase is over. The St. Louis-style pork racks are lean and smoked to bone-stripping perfection. Don't even pick up the sauce – the green hickory infuses the meat with all the flavor you'll want.
woodspitbbq.com