Bridgewater, an old farming community, is situated on rolling hills that are dotted with barns and paddocks, fields and residences. The Housatonic River winds southward through town and into Lake Lillinoah.
The picturesque center of Bridgewater is well off the beaten track. It features quaint churches, stately homes and a wonder Village Store which has been a popular gathering place where necessities can be purchased since the early 1900's. The town is famous for hosting the annual Bridgewater Country Fair, a three day event with food, entertainment, livestock judging, baking contests and a parade of fire departments.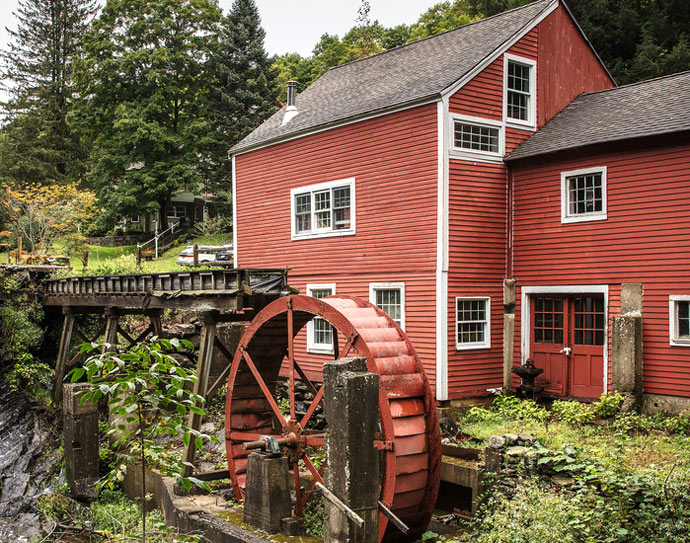 FACTS
Year Town Incorporated: 1856
Form of Government: Board of Selectmen
Geographic Location: NW Tip of Region
Geographic Area: 17.3 mi²
Current Population: Est. 1,824 (2000 Census)
Median Household Income: $80,420
Nearest city with pop. 50,000+: Danbury, CT (22.2 miles , pop. 74,848).
State Lands: Lovers Leap State Park
Recreation: Lake Lillinoah, Bridgewater Recreation Area, Town Park
BRIDGEWATER TOWN HALL 
Assessor's Office
(860) 355.9379
Health Officer
(860) 355.4467
First Selectman
(860) 354.5250
Tax Collector
(860) 355.9220
Town Clerk
(860) 354.5102
Zoning Land Use
(860) 354.2832
Bridgewater Plaza Convenience
11 New Milford Rd W
Bridgewater, CT 06752
860.354.8203
Ice cream parlor and handmade chocolates
Bridgewater Historical Society
The Society also maintains the Captain's House, circa 1851, that displays post office and general store collections. This house was the childhood home of Captain William Dickson Burnham, a benefactor of Bridgewater. Burnham's life reads like a fast paced adventure novel. At 14 he was a runaway to the sea, working as a cabin boy on a clipper ship; by 37, he had risen to Master Mariner status, holding command of steam and sailing ships in all seas; later in his career, he managed the American Hawaiian Steamship Company. He never forgot his childhood in Bridgewater and bequeathed to it his residual estate that allowed the town to build a school and a library, both of which are named Burnham.
Burnham Library
62 Main Street South
Bridgewater, CT 06752
860.354.6937
The Bridgewater Library Association was established in l904, but it wasn't until l909, when a room for library purposes was established at the recently built town hall, that the first public library in Bridgewater was born. Mabelle Sanford, a member of a prominent Bridgewater family, was a driving force behind this effort. She sent out subscriptions to many people who were associated with the town. Among them was Captain William Dixon Burnham.Captain Burnham, who was born in Litchfield in l847, had lived in Bridgewater and in Sharon as a boy and all his life he retained fond memories of these towns. When he was fourteen years old, he went to sea and ultimately became a shipmaster. Burnham made many voyages around the world and, after the annexation of the Hawaiian Islands in l898, was instrumental in establishing the American-Hawaiian Steamship Company. As the fortunes of this company prospered, so did those of Burnham, who was the general manager
http://burnhamlibrary.org/about/history
Bridgewater Country Fair
is a long standing tradition, preserving the character of the country fairs of yesterday, when farmers and other country folk congregated to compete with their prized livestock, produce, and arts and crafts. There is also a fantastic Midway, featuring rides provided by Tufano Amusements, Inc., as well as great food tents all through the fairgrounds featuring roast beef sandwiches, hickory turkey legs, chicken breasts, hotdog's, etc
http://www.bridgewaterfair.com
Bridgewater Village Store
11 New Milford Rd W
Bridgewater, CT 06752
(860) 354.2863
Trowbridge Farm
236 Henry Sanford Road
Bridgewater, CT 06752
Ph: 860-354-8926
Leading Arabian breeding and training facilities in the country, Trowbridges, Ltd. Owned and operated by career horsemen Patrick and Mary Trowbridge, the farm is situated on the historic Nichols Arabians property.