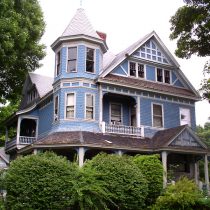 QUEEN ANNE | 1880-1910: 
Towers, turrets, wrap around porches and other fanciful details.
The Queen Anne style of house named for the English monarch of the 18th century is often referred to as "Victorian," since it dates from the reign of Queen Victoria (1837-1901). The Queen Anne house is characterized by elaborateness and asymmetry, both inside and out. Exteriors feature bay and oriel windows, ornamental brackets, siding a mixture of clapboards and wooden shingles applied in fancy patterns, elaborate porches, and turrets of various designs. Interiors tend to have many rooms of varying size and shape, and a lot of dark wood. It's not unusual to find houses of earlier styles that have been "updated" to superficially resemble Queen Anne houses by the addition of turrets, porches, etc.
---
Contact Details
Mobile : (860) 927-1819
---
Send a Message