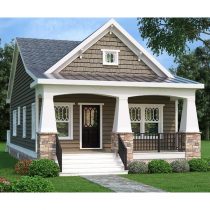 CRAFTSMAN | 1905 – 1930: 
A fundamental tenet of Arts and Crafts advocates that form should follow function; good design and hand craftsmanship should supplant useless ornamentation and shoddy "industrial" workmanship.
The Craftsman style (1905-1930) is named for Gustav Stickley's magazine, The Craftsman. It is the architectural facet of the Arts and Crafts Movement of that period. Craftsman houses feature strong architectural details (like rafters exposed at the eaves) and "natural" materials: wood (stained, not painted), stone, ceramic and clay tiles, hammered copper. Stickley published a book of his designs in 1909, and encouraged readers to build their own houses. Many surviving Craftsman houses are thus copies or adaptations of designs developed by Stickley and his architects.
---
Contact Details
Mobile : (860) 927-1819
---
Send a Message